​Welcome to our agriturismo, where we offer you an authentic and comfortable experience in the midst of nature. We have prepared a series of activities for you that will make you feel right at home.
We are excited to host you and share these unique experiences with you!




RELAX WITH YOGA, TAKE CARE OF YOURSELF

Those who have experienced yoga rarely interrupt their practice, especially not on vacation.
Within the approximately 30 hectares of our agriturismo, there are numerous ideal locations to immerse yourself in nature and meditate, focusing on your breathing. You can choose from the locations we propose or discover new ones. Each of us must find the suitable place to calm our mind and listen to our soul.
You can practice yoga independently or request participation in private or group classes, led by Caterina Faverio, an expert Yogini, teacher of Japanese Yoga, Shamanic Yoga, Traditional Yoga whose lessons are a combination of physical exercises and spiritual connections, focusing on correct posture and self-discovery.
Request further information and pricing for group or personalized individual classes.


APERITIFIES IN THE ATTRACTIVE POSITION

Are you looking for a unique and unforgettable experience for your aperitif? We present our service of aperitifs prepared in suggestive locations in the midst of nature.
Imagine savoring delicious finger food and sipping refreshing drinks in the shade of ancient trees, surrounded by breathtaking landscapes. Every detail will be taken care of to make this moment special and unforgettable. Don't miss the opportunity to live a unique experience in harmony with nature.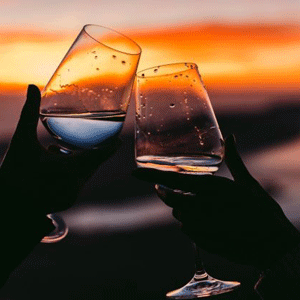 TYPICAL TASTINGS

Tasting local specialties is the best way to complete your stay at Vecchio Ginepro.
We love to share with our guests the passion with which we make our cured meats, cheeses, preserves, and various delicacies accompanied by a selected list of local and Sardinian wines, illustrated by an expert oenologist where possible. Those who wish can combine everything with the pleasure of socializing with other guests and perhaps listening to some stories of local traditions and legends.
Take the opportunity to taste authentic organic products made in the oldest and best Gallurese tradition.


TYPICAL DINNERS
The weekly typical dinner is a special moment we reserve for our guests.
In an atmosphere of absolute relaxation, we enjoy entertaining you and rediscovering together the Gallura and Sardinia through the flavors of tradition that we respect, making dishes with love and passion whose authentic taste comes from the use of raw materials raised and cultivated as it was done in the past when intensive breeding, industrial feed, and chemical fertilizers did not exist.


E-BIKE RENTAL
The best way to enjoy nature, its scents, colors, and music is by exploring it on foot or by bike. However, the Gallura region is not flat, and only those who are in good physical shape can fully appreciate the surrounding wonders by cycling. Technology comes to our aid, allowing us to move sustainably with e-bikes.
That's why we have activated a new e-bike rental service.
We have prepared for you the X7 Icross Elegance Limited Edition e-bikes, which guarantee up to 60 km of autonomy and allow you to enjoy the freedom of movement without limits and with style.
Explore the northern Gallura and the Costa Smeralda in a sustainable way. With the pedal-assisted bicycles, feel free to pedal without limits, enjoying every corner and every road immersed in nature sustainably and in a fun way.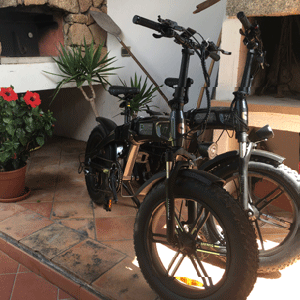 TREKKING
We have three paths that we have traced: beginner, intermediate, and advanced. Anyone can venture on the hill inside our farmhouse and discover the characteristic tafoni immersed among oak trees, lentisk, myrtle, and olive trees. From the top of the hill, the 360-degree panorama of Mount Candela, nearby Arzachena, and the mountains of San Pantaleo infuse a great sense of peace and serenity. We highly recommend sunset walks!


HIKING AND CANYONING

For the most demanding guests, we collaborate with Antonio Spanu – Environmental hiking guide certified by AIGAE (Italian Association of Environmental Hiking Guides) and A. Canyon Guide certified by AIGC (Italian Association of Canyon Guides) with qualifications as a guide for hikes with rope descents – with whom you can book your excursion on site or throughout Sardinia to discover the most beautiful canyons including the nearby Monte Nieddu, behind San Teodoro.
Request further information and a quote for hiking and canyoning.